"Texas is neither southern nor western. Texas is Texas" - Senator William Blakely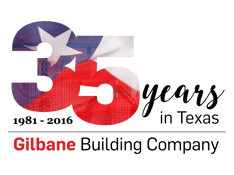 In 2016, Gilbane Building Company is proud to have called Texas home for 35 years. Since we came to Texas back in 1981, we have racked up some pretty impressive numbers — completing more than

331

projects worth more than $13.3B and totaling more than

100MM

square feet of space!


We offer our clients extensive knowledge of the Texas market, including construction processes, area subcontractors/suppliers, local MWBE contractors, and a familiarity with local regulatory authorities. We have established relationships with many of the top contractors and vendors in the state, resulting in satisfied clients and repeat business. We have long-term relationships with many familiar names including Moody Gardens, NASA, Katy Independent School District, Hilton Americas, and others. To see an interactive map showing our projects in Texas, please click the link to the right.


Safety is always our top priority! We are well-known in the construction industry for our uncompromising commitment to working safely - every day, on every project. No exceptions. We are proud of our safety accomplishments, including an industry-leading 17MM safe work hours on one of our most recent large scale projects in The Woodlands.

Gilbane cares about the communities in which we live, work, build and play. Our teams in Texas have raised more than $1,000,000 for local charities in the last 10 years alone — including supporting organizations such as the United Way, ACE Mentor, Houston Food Bank, Houston Methodist Hospital Foundation, Rebuilding Together Houston, CHRISTUS Foundation for Healthcare, Girls, Inc., YES Prep Public Schools, and many others. Watch our Rebuilding Together Houston video here.

With more than 250 regional employees, 41 LEED accredited professionals, and $2.5B currently in construction, we are committed to Texas and look forward to many more years to come. We are also proud to be one of the nation's top employers, and were named #37 on Fortune Magazine's Best Workplaces for recent grads. We offer competitive salaries and one of the finest benefit packages in the industry!

If you would like to connect with us, please fill in the box to the right. We would love to hear from you.